Baked Walleye with Pecans
INGREDIENTS: * 4-walleye fillets * Spinach - wilted * 1 cup chopped pecans * 1 cup of mayonnaise * 1 tablespoon lemon juice * 1 garlic clove, minced * 1/2 teaspoon ground mustard * 1/4 teaspoon pepper * 1/2 teaspoon salt DIRECTIONS: 1. Wilt spinach, drain and spread on a sheet of aluminum foil. 2. Arrange fillets on top of spinach, set aside. 3. Mix together, the mayonnaise, lemon juice, minced garlic clove, ground mustard, salt and pepper and spread over the wallege fillets. 4. Cover with the chopped pecans. Fold aluminum foil making sure all edges are sealed. 5. Bake at 375 for 20-25 minutes or until fillets flakes easily with fork.
You may also be interested in:
Read Full Article
Berry Picking in the Patricia Region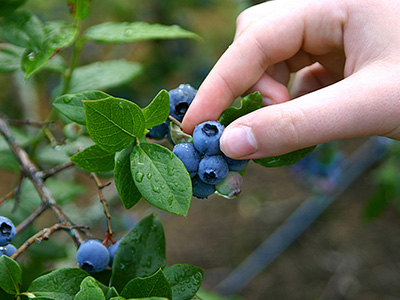 Berry picking in Northwestern Ontario is a fun way to enjoy nature, venture away from the lodge and pick some fresh berries that can be used for many different recipes. Blueberry pie, raspberry jam, strawberry shortcake! The opportunities are endless. Northwestern Ontario is abundant with wild blueberries, as well as raspberries. While picking, it is important to stay bear safe. Learn how to can/jar your fresh berries, and enjoy them year round!